The Last Renegade is a spin off from the spin off The Guardians. It features the timelord March on his adventures.
Characters
[
]
March (Colin Morgan) - A Renegade Time Lord who can no longer see the future. However, he fears his past...
Main Villians
[
]
Daleks (S1+2)
Cybermen (S1)
The Demon (S1+2)
Timebreech (S1+2)
Series 1
[
]
Continuity
[
]
Series 1 comes inbetween Caged1's Eyes of March (Episode in the Guardians) and Series 2 March meets new friend Myura and from a flat in Stratford-upon-Avon they figh aliens that attack earth. However March's past is chasing him, in the form of the Daleks...
Cast
[
]
March - Colin Morgan
Myra - Hannah Spearitt
Episodes
[
]
Title
Written By
Summary
Notes
1) Sontar-Ha!
Caged1
March saves a human from a bunch of Sontarans
Appearance of the Sontarans and the Angel
2) March
Caged1
March tells Myra about his life
About March in his first and second incarnation
3) Angels and Demons
Caged1

March finds himself being watched by two people. His guardian and his new arch-nemesis

First Appearance of the Demon. First Regular Appearance of the Angel
4) The Graveyard Games
Caged1
March has been kidnapped by an unknown source and Myra must fight a new threat whilst visiting a myterious grave
First appearance of the time breech
5) The Fear of Ignorance
Caged1
Myra must save March from the Daleks
First Appearance of the Daleks

6+7)Ikorum/Greth

Caged1
Two brothers. One war. All occuring in Stratford. But who is the alien menace behind it all

8+9) Doctor Who

The Renegades

Caged1
March meets another timelord, the Doctor, and together they fight the timebreech and an old enemy is quick to return
Appearance of the Doctor and the timebreech. Re-Appearance of the Demon. Last Regular Appearance of the Angel
10+11)Return of the Timelords/Fallen Skies
Caged1
The timelords are returning and Myra is apparently dead. Can March stop the timelords returning and bringing the time war with them

12+13/Part 1+2 of 3 parts) March or the Cybermen

Fire of the Daleks

Caged1
March against Cybermen and Daleks in a battle to save humanity, and find March's stolen TARDIS.
Appearance of the Daleks and Cybermen
Series 2
[
]
Episode 1 concludes he two episodes at the end of s1. The Big story arc that encompasses series 1 and 2 I won't reveal and is not vital for any writers of an episode. Part 1's story arc is the Timebreech growing stronger. Part 2's story arc is March and April chasing the Timebreech
Continuity
[
]
Series 2 comes between Series 1 and a Doctor Who episode in SII
Main Cast
[
]
Part 1
[
]
March - Colin Morgan
Myra - Hannah Spearitt
Part 2
[
]
March - Colin Morgan
April - Ruth Kearney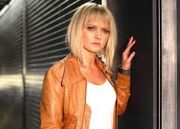 Episodes
[
]
Part 1
[
]
| | | | |
| --- | --- | --- | --- |
| Title | Written By | Summary | Notes |
| 1/p3/p1)The Vortex Opens | Caged1 | After fighting the Daleks, the vortex opens again in March's TARDIS | Resolution to Fire of the Daleks. Appearance of Timebreech |
| 2/p2)After March comes April | Caged1 | March meets the women of his dreams, whilst Myra gets feasted on by the Timebreech | First appearance of April |
| 3)A Holmesian Mystery | Caged1 | March, April and Myra go back to Victorian and with the help of Conan Doyle they search for the timebreech | |
| 4)Unheavenly Visitors | Caged1 | The Demon is back, but the Angel is not | Last appearance of the Demon |
| 5+6) | Caged1 | | |
| 7/p1)Time and Mankind | Caged1 | The Timebreech has captured March. Can April and Myra fight the odds and save him? And will the weeping angels catch them while they walk the Walk of Death | End of First Half. Appearance of the Weeping Angels and Timebreech. Last Appearance of Myra |
Part 2
[
]
| | | | |
| --- | --- | --- | --- |
| Title | Written By | Summary | Notes |
| 8/p2) | Caged1 | | March begins his chase of the timebreech |
| 2) | | | |
| 3) The Gallifrey Conuundrum | Caged1 | | |
| 4) | | | |
| 5+6) | Caged1 | | March and April fight the timebreech |
| 7+8) | Caged1 | | Last appearance of March III |