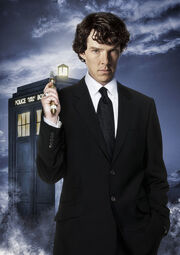 The Legacy of S'ah is a new series starring Benedict Cumberbatch as S'ah.
S'ah is one of the last Time Lords in existence and he travels the universe with his companion in the TARDIS. He saves civilisations from numerous enemies, normally without them even knowing.
He was born in the middle of a war between the Time Lords and Daleks and was brought up to believe that it was the only way to go about life, till he met a man called The Doctor. Who showed him how the Time Lords should live. Protecting people.
Benedict Cumberbatch as S'ah
Companions:Edit
Sarah Hyland as Destiny Shaw (Ep 1-13)
Jeremy Davies as Karl Fisher (Ep 6-10)
Other main character(s)
Edit
Robert De Niro as Chandler Korpes
Episodes:
Edit
Community content is available under
CC-BY-SA
unless otherwise noted.